Understanding Tension Zones in Your Machine
Most converting applications include three types of tension zones - unwind, internal and rewind. Each zone must be controlled independently. Multiple zones of each type are common in many converting applications; however, they normally are categorized as unwind, internal or rewind.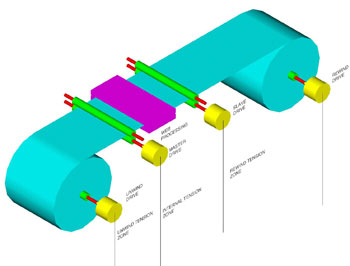 Each tension zone is very unique and must be controlled independently. Since independent tension controls are used in each zone, each zone may have its own tension level. This means, for example, tension in the unwind zone may be 1 PLI then increase to 2 PLI in the internal zone then decrease to 1.5 PLI in the rewind zone.
Torque required to provide a certain level of tension to a web is total tension measured across the web times roll radius. This means the torque driving the unwind shaft must decrease at a linear ratio, relative to roll diameter, as an unwind roll decreases in size, through a machine run, to keep tension constant. Conversely, the torque driving the rewind shaft must increase at a linear ratio, relative to roll diameter, as a rewind roll increases in size, through a machine run, to keep tension constant. Tension in the unwind and rewind zones is very dynamic. Roll diameters are constantly changing, so torque and speed must be constantly adjusted relative to changing roll diameters. Tension and speed in the internal zones is much more stable since roll diameters in these zones does not change. However, some control is required to set and maintain desired levels. Web defects, splices, desired machine speeds, machine defects and other variables will effect tension in the internal zones.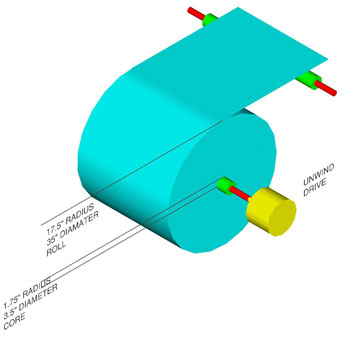 Understanding tension zones in your machine is the first step to improving your converting process and product throughput.
**DISCLAIMER - A great deal of time has been invested in the development of our weekly tech tips. To the best of our knowledge, they are accurate. It is up to the user to verify all results.

THE AUTHOR ASSUMES NO LIABILITY CONNECTED WITH THE USE OF THIS INFORMATION OR THE RESULTS OBTAINED FROM IT.