Core cones come in many shapes, sizes and designs. When I refer to core cones in this tech tip, I am referring to any device that must be removed from a thru shaft in order to make a roll change in an unwind or rewind application. We've all seen this type of core holding device in operation; typically it is cone shaped, with a tapered design. The tapered portion of the cone has a small outside diameter at one end and larger outside diameter on the opposite end. The small end of the cone fits inside your core while the larger diameter is larger than your core. The roll core rests between the cones on the tapered portion. The cones are mounted on a thru shaft and may be positioned for varying roll widths.
Using core cones to hold cores in unwind and rewind applications has two major advantages. They are an excellent choice if you are dealing with crushed cores, because they do not have to be inserted through a core, they only support cores on their ends. Core cones are the least expensive core holding device, so initial cost are low.
Air chucks are an easy to operate method of holding cores and rolls in unwind and rewind applications. They are typically supplied as a standard, thru bore design. Often times, the only variable when ordering air chucks is the thru bore size. It's this standard, "off the shelf" nature that makes air chucks a very attractive option where initial costs are a concern.
Air chucks operate by inflating and deflating. They are designed so that their deflated diameter will allow them to be easily slipped inside your core. Once inserted into your core they are inflated with an inflation device so that they grab and deliver torque to the roll core. This easy, rapid inflate and deflate procedure is an effective option where fast roll changes are desired.
End plugs can be used on the end of the core opposite the air chuck. End plugs do not inflate or deflate. Typically, they are manufactured in a cone shape (similar to core cones) that allows the core to be easily slid over them and then the core rests on a flat "land" that does not grip the core (all of the gripping is done by the air chuck). They simply provide support for the core where web widths are wider than the air chuck. End plugs are normally supplied with a core stop flange to ensure rolls are always placed in their proper position in the machine.
While the initial costs of core cones make them very attractive; the added labor costs associated with the necessity of the extra step of removing and replacing a core cone for every roll change will quickly eliminate any saving and add to your costs over time. Air chucks are an excellent, effective, low cost upgrade to speed up roll changes and save labor costs over time.
In today's economy, cost effective options to speed up processes are always desired. Air chucks may be the best value for your operation.
Click image to view video on CAC's Air Shafts and Chucks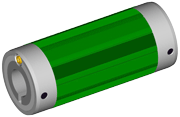 Join us and discuss this tech tip or anything converting at our LinkedIn Group page.
This groups function is to develop into a beneficial discussion of all things converting, thus benefiting the industry as a whole -
click here for our LinkedIn Group page