| | |
| --- | --- |
| | Tech tip for the week of August 19 , 2019 |
Upgrade Unwind or Rewind Sections of Your Process with Unwind and Rewind Modules
Looking to increase production? Looking to produce higher quality goods? Upgrades to your converting process may be necessary to provide more machine throughput while maintaining the highest quality product. There are a multitude of factors to consider and many areas of converting processes to examine when attempting to upgrade any converting operation. Here are some factors to consider in the unwind and rewind sections of your machine:
Tension control: Better, more accurate tension control will deliver your web to your process from the unwind section with constant web tension. This is the foundation for the rest of the converting process. Start your process correctly with constant tension.

Rewinding your web with proper tension control will help to ensure the highest finished roll quality. Some taper tension may be necessary in the rewind section. Tension control upgrades in the rewind section should include at least the option to control taper tension.

Core support: There are many methods to holding your rolls core in your machine. All center driven and some surface driven unwind and rewind sections use some sort of core support method. Core holding methods vary greatly in the converting industry; simple core cones, mechanical chucks, air chucks, air shafts all vary in design and scope of capabilities.

Whatever core support method you choose for your process should provide for the easy, fast roll changes while being easy to handle. Make sure your cores are held rigidly by ensuring the core support method delivers the proper amount of torque to your core. If cores slip on the core support method, web tension will be effected.

Keep in mind, rewinding slit widths may require differential rewind shafts for your material. Differential rewind shafts allow individual cores to slip independently of each other, providing optimum tension control for each slit width in the rewind section of your machine.

Shaft support: Methods for holding the unwind or rewind shaft can vary greatly. Safety chucks are a strong method for ease of operation and operation safety. Consider how your unwind and rewind rolls are loaded into the unwind and unloaded out of the rewind. Choose a method that allows for safe and easy operation.
Power transmission device: These work with the tension control system. This is the brake or drive at the unwind and clutch or direct drive at the rewind. Keep in mind, tension control is only as "good" as the power transmission device. Improperly designed and/or sized power transmission will greatly effect tension control. Your power transmission device must be designed to handle your lowest to highest amount of web tension, at your minimum to maximum web width, through your core outside diameter to maximum roll diameter and must be designed to operate through your machine's running speed.
Web guiding: Web guide control can be upgraded or added to unwind and rewind sections. Properly web guiding the unwind section will ensure your web is delivered in the proper cross machine direction position. Web guide at the rewind will help to ensure the edges of your finished rolls align properly. Unwind modules and rewind modules can be designed to upgrade all of these factors. These modules are designed as "bolt in place" units that allow you to use your existing unwind and rewind frame structure. This allows for some or all of the aforementioned upgrades to be put in place with the least amount of unwind or rewind modification.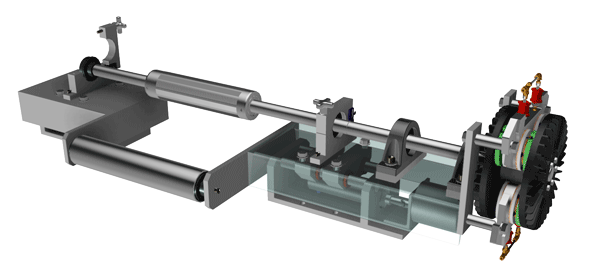 Join us and discuss this tech tip or anything converting at our LinkedIn Group page. This groups function is to develop into a beneficial discussion of all things converting, thus benefiting the industry as a whole - click here for our LinkedIn Group page
Jeff Damour, Converter Accessory Corporation
800-433-2413


**DISCLAIMER - A great deal of time has been invested in the development of our weekly tech tips. To the best of our knowledge, they are accurate. It is up to the user to verify all results.
THE AUTHOR ASSUMES NO LIABILITY CONNECTED WITH THE USE OF THIS INFORMATION OR THE RESULTS OBTAINED FROM IT.